Gear-obsessed editors choose every product we review. We may earn commission if you buy from a link. How we test gear.
Stay Toasty and Be Seen with the Best Reflective Running Jackets
Early morning and after-dark runs call for a boost in visibility.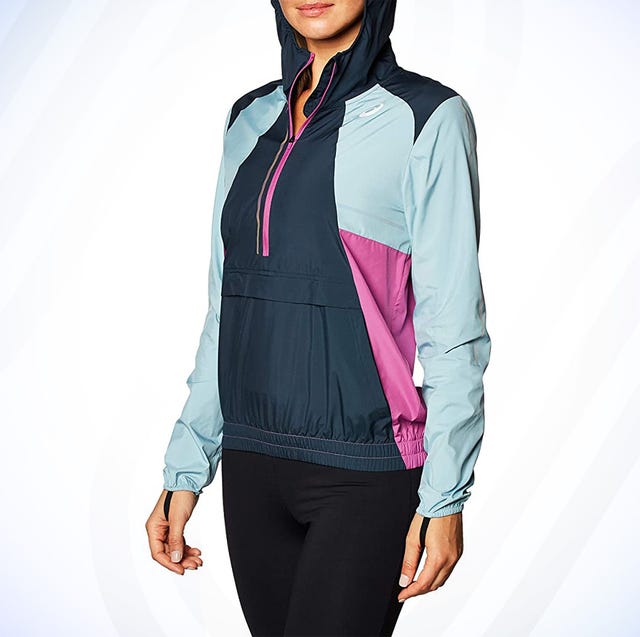 As the days get shorter, the most important thing you can do when running in the dark is be seen. You don't need to wear head-to-toe reflective gear (though that would certainly make you stand out); any sort of reflective or high-visibility clothing or detailing will help drivers see you on the road. Reflective running jackets pull double duty, keeping you warm and making you visible. Here's what you need to know when choosing a jacket, followed our top recommendations.
The Expert: As someone who's raced seven marathons and way more half marathons than I can count, I'm no stranger to running in the dark; I prefer the wee hours of the morning. Recently, I tested many reflective and high-visibility items for Runner's World, where I used to be an editor, and spoke with a product manager for the Brooks Run Visible line to learn more about how reflective and high-visibility materials actually work.
What to Consider
Like with any running gear, it might take some time to find a jacket that works for you. Below are a few important considerations when choosing a reflective jacket.
Fit: Like your running shoes, you want your jacket to fit right and feel comfortable. Maybe you prefer a slim fit or something a little looser to allow for multiple base layers. Most product descriptions tell you what the fit is like, but sometimes it takes trial and error to know what you like to wear while running, so your clothing and gear don't impede your workout.
Breathability: Most running jackets are billed as breathable to keep you from overheating. But once you start choosing jackets that are waterproof, water-repellant, or water-resistant (yes, those are all different), by nature of that material things can heat up pretty quickly. If you live in a place with harsh winters—hello, New England—it might be worth investing in a warmer jacket with moisture management.
Reflective details: The more reflectivity, the better, if your goal is to be seen. We've discovered that many jackets, tops, bottoms, and hats call themselves "reflective" but have just a small reflective strip that won't do much on the dark roads. That's because reflective material only works when light—like from a car's headlight—hits it. Companies also employ high-visibility material—think super bright, fluorescent clothing—because it's easier to spot in ambient light for a glow-in-the-dark effect. Some jackets we chose have reflective detailing on top of high-visibility material—double whammy.
How We Evaluated
Armed with the information from my interview with a Brooks product manager, I used my own experience to carefully select promising reflective running jackets. I also factored in price, style, fit, material, and made my way through thousands of product reviews from fellow runners to bring you the best reflective running jackets. Read about those nine models below.
Best Reflectivity
Brooks Carbonite Jacket
The most visible and reflective jacket we've, er, seen
Comfortable and lightweight
Plenty of storage
Stowaway hood
Key Specs
Sizes: XS–2XL
Fit: Semi-fitted
Special Feature: 3M Scotchlite Carbon Black reflective strips
If you're looking for the best reflective running jacket, the Brooks Carbonite takes the post-race cake. Yes, it's a little pricey, but you get what you pay for, and the Carbonite will not disappoint.
It's semi-fitted and sits comfortably over a baselayer. The sleeve has a longer, angled cut to cover the back of your hand. You'll find zipped storage pockets on the exterior and interior of the jacket to keep your belongings safe and mostly bounce-free. The hood folds up and can be clipped for dry days.
As for reflectivity and visibility? The white fabric on its own will help you stand out in the dark. On top of that, the jacket is covered in 3M Scotchlite Carbon Black strips, which are strategically placed to mimic the shape of a runner in motion from 600 feet away to a car driving 35 miles per hour.
High-Quality Construction
L.L. Bean Bright Multisport Jacket
Lightweight
Athletic design
14 points of reflectivity
Key Specs
Sizes: S–XL for women, S–2XL for men
Fit: Slightly fitted
Special Feature: Hem drawcord for adjustable fit
There are few outdoor brands that rival the quality, durability, and comfort of L.L. Bean. This semi-fitted jacket is designed for activity, like running and cycling. It's complete with vents for airflow, wind and moisture-resistant material, two zip-closure pockets, and two interior pockets, one with a velcro closure to keep your phone safe. The bright yellow fabric coupled with 14 points of reflectivity on the chest, back, and shoulders will make you stand out in a crowd and on a dark road.
High-Visibility Jacket
Craft Adv Hydro Lumen Cycling Jacket
Wind- and waterproof
High-visibility plus reflective detailing
Pricey
Not specifically designed for running
Key Specs
Sizes: XS–XL for women, S–2XL for men
Fit: Athletic
Special Feature: Folds into itself for lightweight storage
If you prefer a high-visibility Craft jacket, try the Hydro Lumen. It's designed for cycling, but we've run in cycling jackets before and generally can't complain—both are lightweight with an athletic cut to stay out of your way while on the move. The Hydro Lumen has reflective details on top of the high-vis yellow fabric. Plus, this jacket boasts wind and waterproof fabric, as well as ventilation openings under the arms and on the back.
Retro Style
Asics Visibility Jacket
Items in front pockets might bounce while running
Elastic waistband on women's version might ride up
Key Specs
Sizes: XS–XL for women, XS–2XL for men
Fit: Relaxed
Special Feature: Hood
This jacket, particularly the colorway, is reminiscent of a '90s track windbreaker. But running technology has come a long way. The lightweight jacket offers water-resistant material with under-arm ventilation. It also features reflective accents to improve visibility. The front pockets provide ample storage, and on rainy days, the hood keeps you dry.
For a thicker-but-still-reflective Asics running jacket, try reviewers love the Lite-Show Jacket ($110). The heavier material is ideal for chillier days.
Lots of Pockets
Baleaf Triumph Hooded Windbreaker
Affordable
Lots of storage
Not very breathable
Hood can't be tucked away
Key Specs
Sizes: S–2XL for women, S–3XL for men
Fit: Semi-fitted
Special Feature: Chest pocket for storage and oversized hood
This versatile windproof and water-resistant jacket keeps you warm and dry. The yellow colorway is a high-vis jacket with reflective detailing throughout, including on the hood. You won't have to leave your belongings behind, either, thanks to six pockets, including a cell phone-specific storage pocket. And like many great performance jackets, this one packs into its back pocket for easy storage.
Waterproof Jacket
Under Armour OutRun the Storm Jacket
Versatile, works with a base layer
Key Specs
Sizes: XS–XL for women, S–3XL for men
Fit: Semi-fitted
Special Feature: Adjustable hood and bottom hem
Stay warm, dry, and visible with this Under Armour favorite that uses the company's Storm water-resistant technology. It's a lightweight jacket—described by one reviewer as a windbreaker—with reflective detailing for low-light conditions. The four-way stretch material helps the jacket move with you for increased mobility, and its zip-closure pockets keep your belongings safe. The reflective detailing is minimal compared to other jackets, so your best bet is to pair with a headlamp, clip-on light, or other reflective clothing for increased visibility.
Lightly Insulated Reflective Jacket
Puma Reflective Woven Running Jacket
Warm
Cinched hood closure
Men's and women's models feature different zip lengths (quarter and full)
Key Specs
Sizes: XS–XL for women, XS–2XL for men
Fit: Standard
Special Feature: Moisture-wicking technical fabric
Runners love this lightly insulated jacket for winter runs thanks to its warmth without bulk. The reflective details make a unique design without sacrificing function. The men's version is an anorak, and the women's is a full-zip jacket. Both are made with Puma's DryCell technology, a moisture-wicking fabric to keep you dry, and feature two zipper pockets for your valuables.
Waterproof Women's Jacket
Lululemon Cross Chill Jacket
Waterproof
Ample pocket storage
Reflective detailing throughout
Pricey
Customers report pilling after a few wears
Women's only
Key Specs
Sizes: 0–14
Fit: Slim
Special Feature: Waterproof
Lululemon running gear is where fashion meets function. The Cross Chill has small yet noticeable reflective detailing for 360 degrees of visibility. It also features thumbholes, a cinchable hood, storage pockets, and a hidden phone sleeve so you can take your essentials for the miles ahead. The women's-only jacket uses Lululemon's waterproof RepelShell fabric to keep you dry, and its fleece interior retains warmth as the temps drop.
Reflective Vest
Nathan Streak Reflective Vest
Lightweight
Highly reflective
Doesn't inhibit mobility
As a vest, it doesn't provide warmth
Key Specs
Sizes: S/M–L/XL
Fit: Relaxed
Special Feature: Adjustable
We know, we know. A vest isn't a jacket. But after wearing this unisex vest, our testers—who are still wearing it after the testing period—were blown away by its fit, comfort, and visibility, saying they've never felt more comfortable running on dark country roads. It's ultralight with an adjustable fit (perfect for layering on top of any top or jacket) and 360-degree reflectivity, making you visible from 1,200 feet away.
This content is created and maintained by a third party, and imported onto this page to help users provide their email addresses. You may be able to find more information about this and similar content at piano.io