Gear-obsessed editors choose every product we review. We may earn commission if you buy from a link. How we test gear.
The 12 Best Fanny Packs for Running, Walking, and Taking Anywhere
Whether you call them fanny packs, belt bags, or hip packs, these expert-recommended models are ready to grab and go.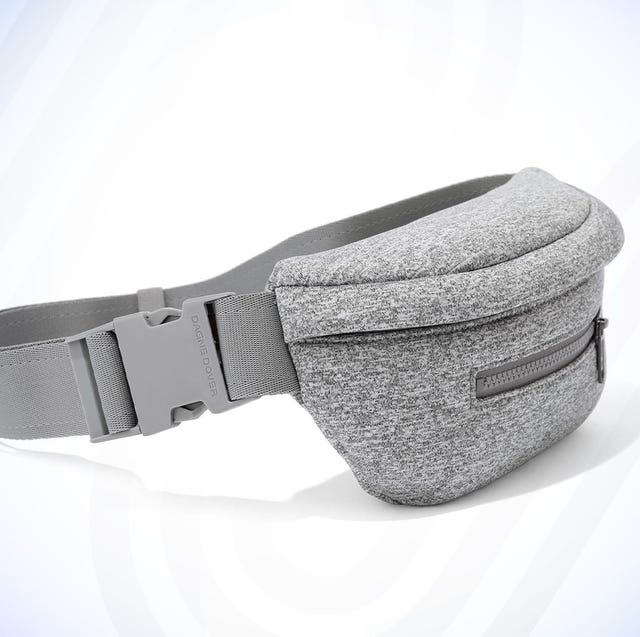 Staff, Courtesy of Dange Dover
Fanny packs are having a moment. And though many runners might have ditched them in recent, err, decades for running belts, fanny packs have come a long way in recent years that make them an amazing asset before, during, and after your training.
Best Fanny Packs
The Expert: I run three times a week, anywhere from 1 to 5 miles, and hit up HIIT and bootcamp classes at least twice a week. I love fanny packs (They double as a wallet and purse!) and tend to wear them across my chest during errands, on mailbox trips, and most other activities, unless I'm exercising. They are also great for outdoor walks and on runs when you need more room to stash things like water bottles and fuel. In addition to my own experience, I tapped a certified personal trainer and a professional runner for their recommendations and advice.
How to Choose the Right Fanny Pack
Pockets: One of the first things I take stock of is pockets: how many there are, if they have zippers (a personal priority for me), and where they are located on the fanny pack. Many bags have some interior organization, but a few other places to check include a bag's lid and back, which are great for easy-access storage. "You can carry all sorts of items like extra gels and snacks [or] bars, and some packs are even designed to carry fluid bottles," professional trail runner Sage Canaday says. "You can easily and quickly reach items that you need while on the move, and the extra weight is less noticeable [compared to if you had to carry your phone in your hand while running]." In terms of water bottle storage, some models incorporate purpose-built pockets, whereas others are large enough to fit a small bottle inside the main compartment.
Belt: Pay attention to the belt, which is typically adjustable. The maximum strap length among our recommendations ranges from 36 to nearly 62 inches. Storage options, like strap loops, for the excess fabric after you've strapped in is a small detail that can make a big difference. Flapping straps can be uncomfortable, even at low speeds. Keep in mind a wider belt is likely to be more comfortable, because it can distribute the weight you're carrying more evenly.
Performance: Being hands-free during a run helps posture and allows your training to be more effective, says Amanda Foland, an ACSM–certified personal trainer, ISSA–sports nutrition specialist, and a professional triathlete. So strapping on a fanny pack to swallow your necessities is already helpful from a performance-gain standpoint. But, you should consider a pack's bounce factor. More often than not, fanny packs can be super bouncy while running, which will quickly ruin any run. I find that wearing them higher on my waist, rather than on my hips, helps reduce bounce. But don't be afraid to throw it on and run a few strides to test this in the position you prefer most.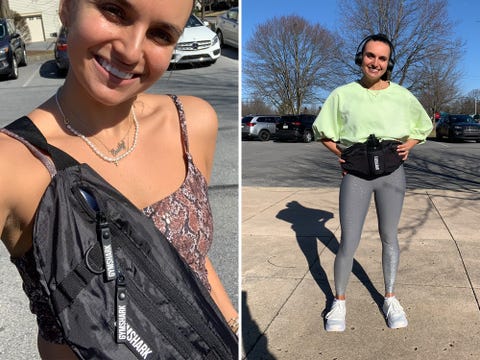 Photos courtesy of Emily Shiffer
How We Evaluated These Fanny Packs
To help you find the best fanny pack for you, I evaluated the following features on each fanny pack: capacity, number of pockets and organization, strap length, external dimensions, and pack weight. I also made sure to note what fabric and materials the packs have. Depending on the fanny pack, I wore them for outdoor runs, walks, and errands. During my runs and walks, the fanny pack would hold my iPhone XR, car and apartment keys, and a lip balm. For errands, I also stuffed in cash, cards, lip balms, and more. In total, I tested 12 fanny packs. My recommendations include fanny packs within a budget-friendly price range; the most expensive fanny pack on this list is under $100. Here are 12 of the best fanny packs for running and beyond.
Best Overall
Cotopaxi Bataan 3L Del Día
At 4 ounces, lightest overall weight
Eco-conscious manufacturing
Some people might prefer a more structured pack
Key Specs
Capacity: 3 L
Pockets: 3
Strap Length: N/A
There's a reason that the Bataan bag has a cult following: It's made of an ultralight yet durable nylon ripstop fabric, sourced from leftover fabric scraps to reduce waste. That means no two packs look the same, but you're guaranteed a colorful, one-of-a-kind creation. It holds tons of stuff—up to 3 liters' worth. The front zippered pocket is very convenient for accessing essentials in a snap, and there are two internal mesh pockets for more storage. One thing I loved was this bag's belt. It's adjustable on both sides of the clip, has stretchy loops that held the excess material after I adjusted the belt, and kept bouncing to a minimum.
Best for Running
Nathan 5K Waist Belt
Smooth, supportive fabric helps create a no-bounce design
Not a ton of storage space
Key Specs
Capacity: 0.3 L
Pockets: 5
Strap Length: 28–46 in.
I am arguing this is not a running belt. As someone who runs with a FlipBelt, Nathan's 5K belt has so many more convenient features. First, I love the fabric: The thick supportive neoprene prevented massive bouncing as I ran. It was able to hold my iPhone XR and my car key (what I usually run with). The loops on the adjustable belt kept the excess material out of the way, so I wasn't worried about it flopping around. Plus, I liked the look. Unlike most fanny packs, this 8-ounce one was sleek (and I highly recommend the Storm Green/Finish Lime color.)
Best for Travel
Dagne Dover Ace Fanny Pack
The elastic loop to hold lip balm sold me
The neoprene fabric might feel a little thick for some
Expensive
Key Specs
Capacity: 1 L
Pockets: 5
Strap Length: Up to 36 in.
This water-resistant neoprene fanny pack has so many features that make it a great traveling option. First, lip balm, lip gloss, and lipstick lovers will appreciate the elastic loop meant to secure your lip product (so smart!). It also has an interior card holder and key loop so you can carry your hotel keycard or Airbnb key with ease. And on the exterior side that's close to your body, there is another card holder, so you can stash a subway card for easy access.
Best Storage Space
Lululemon Clean Lines Belt Bag
Key Specs
Capacity: 2 L
Pockets: 2
Strap Length: 28–46 in.
At 2 liters, this polyester and nylon bag has twice the storage room compared to the brand's cult-fave Everywhere Belt Bag. So if you're looking for more space, this is the belt bag for you. The design really is clean and streamlined. Highlights include an easy-access exterior zippered pocket and a mesh interior pocket that has a carabiner-like key loop for more secure key storage.
Best for Ultras
Camelbak Podium Flow 4 Hydration Belt
Tons of storage space
Comes with a 21-oz water bottle
On the bigger side size-wise; might be cumbersome
Key Specs
Capacity: 4 L
Pockets: 5
Strap Length: 28–46 in.
Ultra runners who need lots of storage space will love this 8-ounce belt from Camelbak. It's heftier for sure; the extra-wide belt offers the most storage I've seen in a fanny pack, with four zippered pockets for you to store tons of fuel. But it has comfort in mind, with a padded mesh that prevents your stuff from repeatedly smacking your hips as you run, as well as providing ventilation.

Best for the Gym
Gymshark Crossbody Bag
No zippered pocket on the interior
Key Specs
Capacity: 3.5 L
Pockets: 3
Strap Length: N/A
As someone who becomes a gym rat in the winter, I decided to pack up this 100 percent polyester sling for my gym sesh and Les Mills class. I was able to throw a 16.9-ounce water bottle in it (it holds 3.5 liters), and the D-ring on the front made it super easy to clip on the carabiner that holds my car keys and gym membership card. When I got inside, I swiped in without having to hunt through my bag. Plus, it has an additional zippered pocket on the front for quick and easy storage.
Best Organization
Athleta Kinetic Waist Bag
Great interior storage options
The belt is super long! Great if you need it, but meant a lot of excess fabric
Not best for running
Key Specs
Capacity: N/A
Pockets: 6
Strap Length: Up to 53.5 in.
First things first: The Kinetic's cobalt blue color rocks, and it has modern-looking metal hardware that also makes it look really cool. Looks aside, this was the only fanny pack I tested that has a multi-slot card holder so you can store all your plastic. In addition to the front zippered pocket, there's also a lid pocket where you can stash anything you might need in a snap. These organizational features make it a good option for running errands, but that's likely all the running you'll want to do in it. The long belt creates quite a bit of excess fabric, and after a windy walk, I could tell this Athleta bag is not designed for running.
Best Water-Repellent Pack
Vuori x Aloha Mini Hip Pack
Water wicks right off this super lightweight pack
The design is basic and not the most comfortable
Key Specs
Capacity: N/A
Pockets: 2
Strap Length: 28.5–43 in.
Performance wear brand Vuori teamed up with Aloha, a travel bag company, to create this fanny pack, which I love. It's made with a lightweight PU-coated Tyvek material that the brand calls "splash proof," which means it will be "protected from a light splash, light rain, or a cocktail spillage" (duly noted). I used this Vuori fanny pack to go grab my mail on a rainy day, and it kept my keys and lip balm dry. Plus, the splattered detail design gets added style points.
Best for Hydration
Asics Waist Pouch L
Great water bottle storage
Only one technical pocket (the other is for water)
Key Specs
Capacity: N/A
Pockets: 2
Strap Length: N/A
The thing I like most about this polyester and nylon Asics fanny pack is that it fits a standard 16.9-ounce water bottle in the front sleeved pocket. I've always struggled to find a belt I like when it comes to hydration needs (I usually go with a handheld running bottle). But I could see myself utilizing the pocket on this belt to store my water bottle. In general, the Waist Pouch is low-bounce and lightweight. The mesh fabric at the waist is breathable, and it also has several convenient loops and toggles for additional storage (not to mention a great zippered pocket).
Best for Commuting
Monos Metro Sling
Excellent organization with 6 pockets total
Thick nylon might get hot after wearing it for a while
Expensive
Key Specs
Capacity: 1.8 L
Pockets: 6
Strap Length: Up to 61.5 in.
City dwellers will appreciate this water-repellent nylon twill fanny pack. (If you're looking for something a little sleeker, it also comes in vegan leather.) There are many features that make the 12-ounce Metro ideal for commuting, such as its four interior pockets and a keychain carabiner. The interior lining is anti-bacterial and made from recycled water bottles. But the best feature is the hidden, full-length, zippered back pocket that keeps essentials at the ready.
Best for Errands
State Lorimer Fanny Pack
Two main compartments is great for separate storage
Key Specs
Capacity: N/A
Pockets: 3
Strap Length: Up to 31.5 in.
The Lorimer has become my go-to for grocery shopping and Target trips. I was sold after one recent Costco trip. The thing I loved the most: The pack has two main large zippered pockets that made it convenient for me to keep my cards and cash separate from things like my tissues, lip glass, and rollerball perfume. Plus, the exterior back pocket was great for stashing my membership card, so when I got to checkout, I just grabbed it and opened up my cash pocket, altogether making things a breeze as I was juggling my cart. I wore it across my chest for even easier access. Later this spring, the company plans to ship models with an extended 39.4-inch strap, but I found the standard length comfortable as a cross-body when I wanted easier access.
Best for the Beach
Lola Sprite Recycled Chakra Bum Bag
Great mix of pockets (interior, exterior, zippered)
Key Specs
Capacity: N/A
Pockets: 4
Strap Length: Up to 37.5 in.
If you're planning a beach vacay or are lucky enough to live near a beach, you will definitely love utilizing this fanny pack from Los Angeles–based Lola designs. Its fanny packs are inspired by Californian beach life, and the bright colors are super fun. There are lots of pockets, including two zippered pockets with an interior pocket inside one of them, plus an exterior back pocket. The Chakra feels sturdy—it's made of a thick recycled nylon and polyester and has a lined interior so you can easily dump any sand that might get in it.
Fanny Pack Performance Tips from Professional Trail Runner Sage Canaday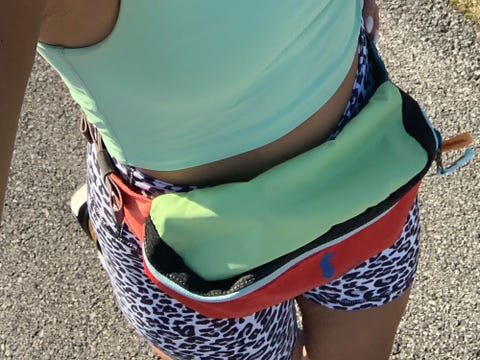 Photo by Emily Shiffer // For maximum comfort during a run, prioritize a fanny pack that won't bounce as you stride. Emily Shiffer was impressed at just how well the Cotopaxi Bataan 3L Del Día performed in this regard.
RW: What's your preferred material and why?
S.C.: Look for designs with a kind of "breathable air mesh" material to help keep you light and dry. This is also an added bonus if it is raining or snowing because your waist pack will stay lighter and not get as bogged down with water.
RW: What's the most surprising thing you've fit into a fanny pack?
S.C.: Most packs have ample phone storage compartments and zippered pockets for extra security. I often run with my car keys, an ID/credit card/cash, and some extra energy gels. Sometimes I'll even run with a GoPro camera too, and I've found waist packs to be a great way to store all these items and keep my hands free.
RW: Any tips on running while wearing a fanny pack?
S.C.: You need a proper fitting pack that will be secure around your waist to minimize bounce when fully loaded. Many packs come in different sizes and have adjustable waists that will accommodate any body type. Having the correct size and appropriate fit is essential, because you want to make sure the fanny pack sits in a comfortable location around your core area, doesn't bounce when fully loaded, but also doesn't feel tight or restrictive. Look for adjustable straps or different size options in the waist belt design to find the perfect fit. Most places will allow you to try out gear one to two times, and if you do not like it, return or exchange it. Your fanny pack should fit tight so it's not bouncing, but has enough give so you're not hindering your gate or adding stress to your abdomen.
This content is created and maintained by a third party, and imported onto this page to help users provide their email addresses. You may be able to find more information about this and similar content at piano.io