Gear-obsessed editors choose every product we review. We may earn commission if you buy from a link. How we test gear.
The Best Sun-Protective Clothing to Keep You Safe
Supplement your sunscreen with UPF 50+ running apparel and gear.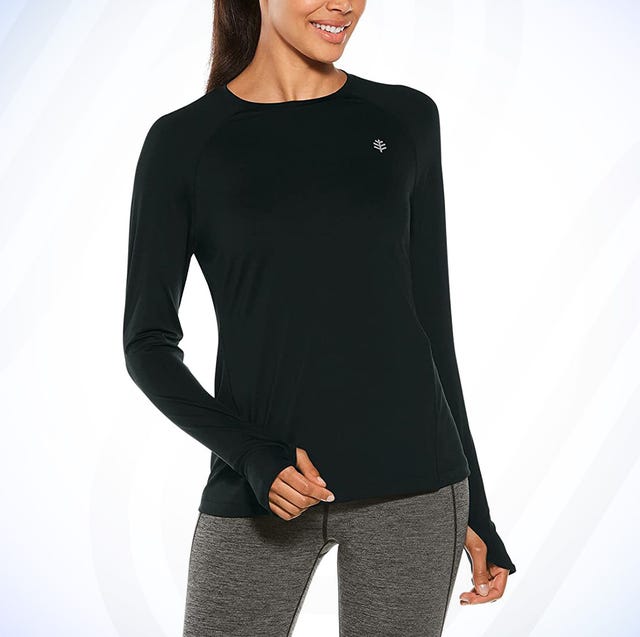 Staff, Courtesy of Coolibar
When it comes to advice on how to shield your body from harmful UV radiation, sunscreen tends to get all the glory. But wearing sun-protective clothing is the true best form of protection—not only can a UPF 50+ shirt block up to 98 percent of rays, but you'll never risk sweating it off, missing a critical spot, or needing to constantly reapply. Today, more and more brands are starting to incorporate sun protection into their workout gear to help runners and other athletes better safeguard their bodies from skin cancer. And we need the support—runners are at a higher risk for skin damage, skin cancer, and premature aging because we spend so much dedicated time outdoors in direct and indirect sunlight. Here's what to think about before buying sun-protective running gear, with advice from a dermatologist and sun-care expert.
Best Sun-Protective Clothing
The Expert

Dr. Elizabeth K. Hale is not only the Senior Vice President of The Skin Cancer Foundation and a practicing dermatologist in New York, but she's also a serious runner with eight full marathons and about 50 half-marathons under her belt. A huge fan of year-round sun-protective clothing, Dr. Hale always wears both sunscreen and long-sleeve sun-protective clothing—even in warm weather, which she says surprises some of her patients. But "unprotected sun exposure is the leading cause of skin cancer and skin aging," she says. Although Dr. Hale notes that using high SPF sunscreen while running is important, "clothing is really the best line of defense."
What to Consider When Choosing Sun-Protective Clothing
UPF Factor
Obviously, a higher number of protection is better. But what do the UPF numbers mean? Unlike the SPF (sun protection factor) number, which is a metric indicating how long it takes for sun-exposed skin to turn red and burn, UPF (ultraviolet protection factor) is a measurement of how much UV radiation can pass through clothing and reach your skin. A UPF 50 garment will prevent 98 percent of UV rays from penetrating, while a UPF of 30 to 49 will provide less protection—but still enough to qualify for the Skin Cancer Foundation's Seal of Recommendation.
Coverage
We know—it's hard to run in full tights or long sleeves when it's 75+ degrees outside. But the more skin you cover with sun-protective clothing, the higher your protection level and the less real estate you have to cover with sunscreen. Try loose-fitting long sleeves on warmer days when you still want more protection and seek shadier running spots with plenty of tree coverage. Try to run earlier or later, too, outside of peak sun-exposure hours.
Fabric Color
According to the Skin Cancer Foundation, dark or bright colors are better at protecting your skin from UV rays because they absorb or even reflect the rays instead of allowing them to pass through the fabric to your skin. Light colors and see-through or slightly transparent fabric, like a thin white shirt, will be less protective because more UV rays can penetrate.
Protect Yourself: Sweat-Resistant Sunscreen • Sunscreen for Your Face • Our Favorite Running Sunglasses • Running Hats We Love

Material and Fit
As for fit, loose-fitting clothing is not only more comfortable in the heat, generally, but it also provides better protection because it's not stretched to the point of allowing sunlight to filter through, according to the Skin Cancer Foundation. Fabric material should also be a consideration. "The general rule is that the tighter the weave and the darker the color, the more protective the fabric is," says Dr. Hale. A basic cotton T-shirt alone provides the equivalent SPF of about seven, she says—and even less if it's wet. "You want clothing that offers UPF, which is usually a reflection of what type of fabric is used—so something like a nylon or nylon blend is much more protective and safe than cotton or linen," she says. "Synthetic materials are actually better than natural materials, so clothing constructed to be tightly woven and provide UPF is good. Another way companies achieve UPF protection is to pretreat their fabrics with UPF chemicals, but those can lose some of their efficacy after repeated washes; whereas a good UPF shirt from a trusted brand will last longer."
How We Selected This Sun-Protective Clothing
The products here were selected based on my personal experience with many of them or sourced from firsthand recommendations from other runners in my circle. I also used the guidance of Dr. Hale and the Skin Cancer Foundation to analyze the effectiveness of products I haven't personally tested, and scoured online reviews to tease out pros and cons. Good sun-protective gear needs to have a UPF factor of at least 40 but preferably 50+, as well as more skin coverage and fabric that effectively filters out ultraviolet rays. It also needs to be comfortable, breathable, and a good value for the price. As a Texan runner, I'm well aware that many sun-protective items will be worn to run in the heat, so I sought out cooler, summer-friendly items that still provide full coverage when making my picks. There should be something for everyone here, no matter your running climate.
Expert Dr. Elizabeth K. Hale, Senior Vice President of The Skin Cancer Foundation, on How to Protect Yourself From the Sun's Rays—Even When You Can't See Them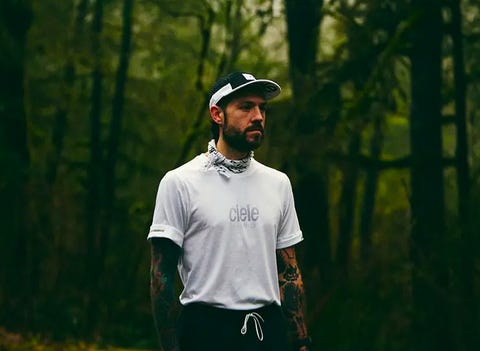 Ciele // Even under the coverage of trees or an overcast sky, it's crucial to protect yourself from UVA and UVB rays.
RW: What's the difference between UVA and UVB rays?
E.K.H.: UVA rays have a longer wavelength and are associated with premature skin aging in the form of sunspots, wrinkles, and other damage. In warmer months, Dr. Hale says there's a predominance of UVB rays, which are the shorter rays that can cause a sunburn. But just because it's cold or overcast outside doesn't mean there's no need to protect your skin—both UVB rays and UVA rays can contribute to your risk of skin cancer and damage. "A lot of times my patients say, 'I protect my skin in the summertime, so I don't get a sunburn,' but I have to educate them that the ultraviolet A rays are present year-round—even on a cloudy day," Dr. Hale says. "And those contribute to skin cancer, as well as premature skin aging, so it's important for runners to protect themselves in all weather."
RW: What can you do if it's too hot to wear full-length sun-protective clothing?
E.K.H.: Dr. Hale recommends running earlier—or later—to avoid the peak hours for sun strength between 10 a.m. and 4 p.m. In warmer months, she often runs before the sun even comes up. If you can't avoid those hours, try to run in the shade and wear sunscreen anywhere not covered by sun-protective clothing. Don't forget a hat, sunglasses, and SPF lip balm.
RW: Anything else to be wary of?
E.K.H.: Look out for surfaces that can reflect ultraviolet radiation, like water and snow. And "don't be fooled by rainy or overcast days, because up to 80 percent of ultraviolet rays, especially UVA rays, can penetrate through clouds and fog," Dr. Hale says. "We've all been there where the day starts out cloudy, and ends up sunny, so you should just always protect yourself." Also, though people with fairer skin are at higher risk for sun damage and skin cancer, no one is off the hook in terms of sun protection. "Although people with skin of color are less susceptible, they're still at risk," she says. "No one is immune.