It happens to every runner at some point: The fire fades, you find yourself in a rut, and the activity you once fell in love with can start to feel like a grind. It's easy to become a creature of habit because of the repetitive nature of your routines. This can sometimes strip away the fun, but a loss of desire is not a reason to beat yourself up.
"We always think losing motivation is a bad thing, but it's really helpful feedback," says Leah Rosenfeld, an elite athlete who coaches with Team Run Flagstaff and iFIT. "Your body is telling you what you're doing isn't working, that something's got to change."
That said, try any one (or all) of these five tips to put some spark back into your running.
Reflect on your life outside of running
When motivation levels take a nosedive, Rosenfeld advises athletes to track what they're doing and how they're feeling off the course. "Be aware that motivation is a by-product of your daily routine, environment, and the people you're around," she says.
Roberta Groner—who finished sixth in the World Championships Marathon in 2019 and who coaches at the Central Park Track Club—also looks inward when her motivation is on the wane. "Is it fatigue related? Or do I have no objectives or goals?" Groner says. "I try to set some goals for the year, then I'm more focused and motivated."
Revamp your running closet
One of the best ways to spark joy in your training is by updating your wardrobe.
"Something shiny and new and smelling fresh can spice it up," Fitzgerald says. "It could be shoes, socks, shorts, a hat, running headphones, or sunglasses, but I always find my first run with something new gets me excited."

Try some top-quality running garments such as Smartwool's®Merino Sport Ultralite Tank or the Merino Sport Lined Short, which are designed for maximum comfort and breathability on the run. Made with merino wool, they're both temperature-regulating and quick-drying, which makes them great for summer, as well as layering all year round.
Treat yourself to a new pair of running socks. Smartwool's®Athlete Edition Run Print Crew Socks and the Run Zero Cushion Low Ankle Pattern Socks combine extra-durable wool with moisture-wicking breathable mesh for year-round comfort, while flexibility in the ankle joint area supports performance. And who wouldn't be at least slightly more motivated with these bright colors on their feet?
Leave the watch at home
Tracking progress can be a huge motivator, as can the kudos on social media. But when you hit a roadblock in your relationship with running, it's worth taking time away from that significant other–your watch.
To break free from the numbers, Matt Fitzgerald, author and running coach at online training plan provider 80/20 Endurance, encourages spending some time reminiscing. "Because it's a sport, a lot of runners will become beholden to numbers and start to bleed the fun out of it," he says. In those cases, he adds, they need to reconnect with what they originally appreciated about running.
Groner agrees. "Rediscover why you love to run," she says. "Put no pressure on yourself. Sometimes just taking the first step out the door is all we need."

Take a break
While it may be the very thing you're trying to avoid, pausing your training can improve your mindset in the long run. "Taking a step away [from running] can be really hard when you've formed a lifetime attachment," Rosenfeld says. "But it's also the most freeing thing ever to play golf, hike, swim, do Tai Chi, or something not athletic, like learning a new board game or how to play piano."
Time away will likely reinvigorate your enjoyment when you come back to running. Because it's true what they say: Absence makes the heart grow fonder.
Switch up your routine
Feel like you're relying on your running buddies for motivation? Try going solo: "When someone is always training with a group, they can feel obligated to the group when they'd be happier doing their own thing," Fitzgerald observes. On the flip side, if you usually set out alone, training with a group or joining a virtual running club through Strava may be the shake-up that makes logging the miles a whole lot easier.
You can switch things up in other ways, too. "Run with music if you normally don't or run without music if you normally do," Rosenfeld says. Smartwool has an upbeat running playlist if you're looking for a recommendation.
Besides a change of auditory scenery, consider changing up your actual surroundings. "You don't have to run from your front door every day and you can run at a different time," Or run to happy hour and have your friend drive you home."

Set a new goal
If you've recently checked off an item you've been working towards and find your motivation's lacking, give yourself some grace, then start dreaming up your next objective.
However, if you're halfway to achieving your goal and your heart's still not in it, you should reassess. Fitzgerald suggests asking yourself: 'What would feel good right now? What do I really want right now?'
"If you're training for a road race but would rather be on the trails, great," he says. "Variety is the spice of life, so it's about framing it positively." By answering those questions with honesty, you'll be well on the way to rekindling your running joy.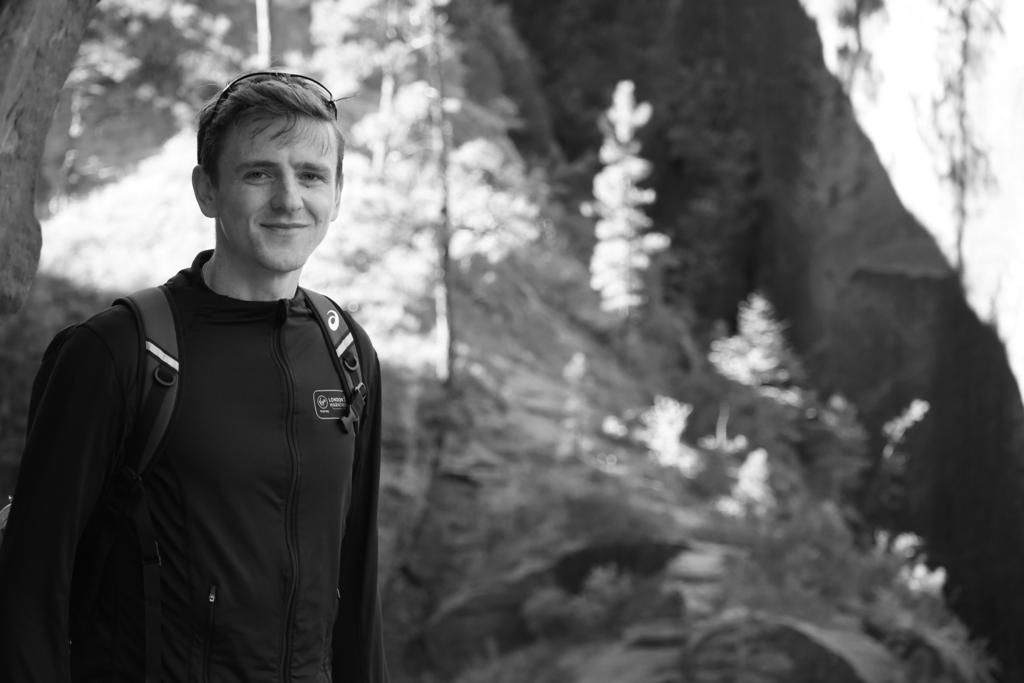 Contributing Writer
Cathal Dennehy is a freelance writer based in Dublin, Ireland, who covers the sport for multiple outlets from Irish newspapers to international track websites. As an athlete, he was Irish junior cross-country champion and twice raced the European Cross Country, but since injury forced his retirement his best athletic feat has been the Irish beer mile record. He's happiest when he's running or writing stories about world-class athletes.