Gear-obsessed editors choose every product we review. We may earn commission if you buy from a link. How we test gear.
11 Runner-Approved Energy Gels for Training and Racing
No matter what you're looking for in a running gel, we have you covered.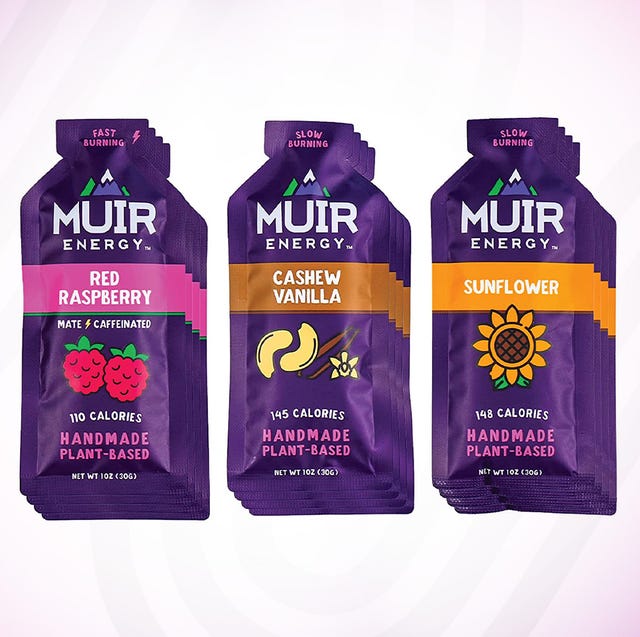 Get a group of runners together, and you'll find as many opinions about gels as there are people—and they're not always flattering. But the gooey nutrition is a staple in fuel belts for marathoners and half marathoners everywhere. Why? Efforts over 60 minutes require you to start replenishing calories lost. But before you pick your poison, there are a few things you should know about energy gel nutrition.
What Are Energy Gels?
Energy gels, or running gels, are designed to top off your glycogen stores that get depleted during long-distance running. Energy gels are made up of mostly simple sugar, which is your body's preferred source of fuel during exercise. For quicker absorption, look for brands that have two different forms of carbohydrates, such as glucose and fructose.
Many gels also offer electrolytes, which become crucial on long runs, especially in warm weather. If you're a salty sweater—your clothes are covered in white salt after a run or your skin feels gritty once the sweat dries—find a gel with at least 100 milligrams of sodium, says registered dietitian Pam Nisevich Bede, owner of Swim, Bike, Run, Eat.
Ready, Set, Fuel: The Best Energy Bars for Runners | How to Fuel a Race | The Right Way to Carb-Load Before a Big Race
Certain gels also provide caffeine, which can help make those later miles feel a little easier. But Bede says it might help your GI tract to alternate between caffeinated and non-caffeinated gels throughout activity. (After all, you don't want to feel like you've chugged a cup of coffee every half hour… right?)
In order to keep from bonking, you'll want to consume about 100 calories and 25 grams of carbs (that's generally one gel pack) every 30 to 45 minutes for runs 60 minutes or longer, Bede says. It's also crucial to consume with water, to help your body digest the high amount of sugar hitting you at once.
Of course, you want to try your fuel (and fueling plan) in training before you toe the line on race day. Here's a rundown of some of our favorite energy gels according to what you're looking for.
How We Evaluated
When searching for the perfect running gear or nutrition, it can be hard to know where to start. We know you rely on recommendations from fellow runners and the experts at Runner's World to point you in the right direction. I've got seven marathons under my fuel belt and way more half marathons than I can count. I've done my fair share of trial and error with bars, chews, and gels. To recommend the best energy gels for runners, we've also enlisted the expertise of endurance athlete and registered sports dietitian Pam Nisevich Bede to identify what you should look for in an energy gel, and tapped the RW staff for their picks based on flavor, ingredients, and texture.
Best Variety of Flavors
GU Original Energy Gel, 24-Pack
Affordable
Lots of tasty flavors
Some people might prefer more caffeine
Key Specs
Flavors: Chocolate Outrage, Jet Blackberry, Salted Caramel, Strawberry Banana, Tri-Berry, and Vanilla Bean
Calories: 100
Caffeine: 40 mg for Jet Blackberry; 20 mg for Chocolate Outrage, Salted Caramel, Vanilla Bean, and Tri-Berry; 0 mg for Strawberry Banana
When people think of gels, there's a good chance they're thinking about the OG GU energy gels. GU has—sticky hands down—the best variety of flavors, no matter what you're craving at mile 16 (Salted Watermelon, anyone?). The editors of Runner's World went so far as to test and rank every flavor available (at the time of testing). Each packet provides 100 calories of energy, though different flavors provide varying amounts of carbohydrates (20 to 23 grams), amino acids, sodium, and caffeine, all clearly marked on the packaging. This assorted 24-pack includes six flavors, five of which are caffeinated.
"I love what Gu is doing with fun flavors," says Bede, who turns to Salted Watermelon during heat waves and S'mores while training in the cooler months. Test Editor Amanda Furrer, a three-hour marathoner and GU defender, opts for GU Hoppy Trails and Salted Caramel. The latter, she says, "is the best of both worlds: salty and sweet."
RELATED VIDEO: What is the Best GU Flavor?
Steady-Release Energy
Boom Nutrition Carb Boom! Energy Gel, 24-Pack
Low-sugar, high-carb formula provides lasting energy
Good for people with sensitive stomachs
Only one flavor made with caffeine
Key Specs
Flavor: Apple Cinnamon
Calories: 110
Caffeine: 0 mg
Boom Nutrition designs its gels to release energy steadily, compared with other gels that deliver a hit of sugar quickly. Everyone can benefit from this low-sugar, high-carb formula, but it's particularly good for individuals whose GI tracts are more sensitive. Better still, Boom doesn't use artificial colors or sweeteners.
A Gel Inspired by a Chew
Clif Shot Energy Gel Variety Pack, 24-Count
Eight flavors with caffeinated and non-caffeinated recipes
Slightly thinner consistency
Key Specs
Flavors: Chocolate, Chocolate Cherry, Citrus, Double Expresso, Mocha, Razz, Strawberry, and Vanilla
Calories: 110 for Chocolate and Chocolate Cherry; 100 for other flavors
Caffeine: 100 mg for Double Expresso and Chocolate Cherry; 50 mg for Mocha; 25 mg for Citrus and Strawberry; 0 mg for Chocolate, Vanilla, and Razz
Clif Bloks are one of the more popular energy chews—juicy gummy squares that come in (sometimes) questionable, yet delicious flavors, such as Ginger Ale and Margarita (salt is an electrolyte!). The Clif Shot Energy Gels harness the same power and flavor of the chews but in a formula that makes it easier to go down, if chewing is not something you want (or are able) to do at mile 20. Each packet provides 100 to 110 calories and 22 to 24 grams of carbs, depending on the flavor.
Extra Electrolytes
Huma Plus Mix, 12-Pack
All-natural ingredients
High in electrolytes for sweatfests
Key Specs
Flavors: Berries and Pomegranate, and Strawberry Lemonade
Calories: 100
Caffeine: 25 mg for Strawberry Lemonade, 0 mg for Berries and Pomegranate
Huma Plus is a chia-based gel that has double the electrolytes—240 to 245 milligrams sodium, 75 to 80 milligrams potassium, and 15 milligrams magnesium—compared to the brand's regular version. Huma uses all-natural ingredients so your electrolytes are coming from coconut water and sea salt. This pack includes a caffeinated and non-caffeinated flavor, each providing 100 calories and 21 grams of carbs.
Highly Caffeinated Gel
Clif Shot Energy Gel Double Expresso, 24-Count
Great value
Litter-reducing package design
Might be too much caffeine for some people
Key Specs
Flavor: Double Expresso
Calories: 100
Caffeine: 100 mg
For a double dose of energy, slip a Double Expresso Clif Shot gel into your pocket or running belt. It packs 100 milligrams of caffeine (about the same as an 8-ounce coffee), and our testers found the flavor to be slightly more palatable than others. Each packet also provides 100 calories and 24 grams of carbs. For the environmentally conscious, it features the brand's patented Litter Leash design which keeps the torn-off top connected to the packet to prevent litter and make it easy for you to ingest half and roll up the rest for later.
Organic, Gluten-Free Ingredients
Honey Stinger Fruit Smoothie Energy Gel Box of 24
Affordable
Certified organic
Key Specs
Flavor: Fruit Smoothie
Calories: 100
Caffeine: 0 mg
The difference between organic and natural gels is that the organic label is highly regulated by the USDA (the food must contain at least 95 percent organic content), whereas natural isn't. Foods that claim to be natural don't have added color, artificial flavors, or synthetic substances (although high fructose corn syrup is considered natural.) This Honey Stinger option is a go-to for an effective, tasty gel that also checks off the organic and gluten-free boxes. It's made with just seven ingredients you can pronounce (yes, organic honey is one of them) and provides 100 calories of energy.
Runner's World+ Members, get an exclusive 35% off all Honey Stinger products. Get the Deal!
Best for Ultramarathoners
Spring Energy Gel, 20-Count
Made with real food for longer energy release
Key Specs
Flavor: Canaberry
Calories: 100
Caffeine: 0 mg
Yes, Spring Energy is incredibly expensive—more than double the cost of other brands. But you get what you pay for, and in this case, you're getting all real food. The vegan Canaberry option combines rice, banana, and strawberry with additional ingredients that add flavor and electrolytes. For a 50-milligram caffeine boost, try Speednut or Koffee, which was developed with two-time Olympian Kara Goucher.
Our video producer and resident ultrarunner Pat Heine shells out for Spring Energy for his races, particularly the Canaberry and Awesome Sauce flavors. "I've subsisted on Spring Gels for literal days," he says. "They're expensive but real good."
Sustained Energy
Gu Roctane Energy Gel, 24-Count
Made with extra electrolytes and fatigue-reducing ingredients
Key Specs
Flavor: Sea Salt Chocolate
Calories: 100
Caffeine: 35 mg
This is basically a regular Gu gel on steroids. Designed for the ultra endurance athlete, the Roctane line has more electrolytes (sodium) and additional branched-chain amino acids (leucine, valine, and isoleucine), which can help reduce mental fatigue and decrease muscle damage sustained over the long, long run. Roctane also has the amino acid taurine (famously found in Red Bull), which might help improve performance.
The Original Performance Energy
PowerBar PowerGel Original, 24-Count
Key Specs
Flavor: Tropical Fruit
Calories: 100
Caffeine: 0 mg
It's probably safe to say that every runner is at least familiar with the brand PowerBar, the original sports bar company. (I remember tasting an original PowerBar during my high-school running days, thinking "What is this grossness?") Well, PowerBar, which has been owned by a few companies since its inception in 1986, has come a long way in sports nutrition.
Its gel, PowerGel, once graced the New York City Marathon aid stations (that's where I first tried it). Unfortunately, its coffee flavor isn't around anymore, but Tropical Fruit and four others are. Each package contains 100 calories and 26 grams of sugar. It includes a 2:1 ratio of glucose and fructose, which can increase absorption—meaning you'll get the energy you need faster than single-source sugars.
An Environmentally Friendly Gel
Muir Energy Gel Variety Pack, 12- Count
Key Specs
Flavors: Cashew Vanilla, Red Raspberry, Sunflower
Calories: 110 for Red Raspberry, 145 for Cashew Vanilla and Sunflower
Caffeine: 0 mg
I first tried Muir when I was starting out as the food and nutrition editor at Runner's World. A friend and former teammate knew the founder of the company, which was just starting to put out real-food, clean ingredients gels.
The handmade, plant-based gels in this variety pack boast just four whole-food ingredients, which are plant-based, organic, and non-GMO. The company is dedicated to fueling athletes and being environmentally friendly; it's a member of 1% for the Planet and is carbon neutral-certified. But the gels are more expensive than most others on our list.
This content is created and maintained by a third party, and imported onto this page to help users provide their email addresses. You may be able to find more information about this and similar content at piano.io